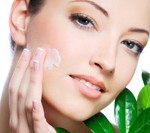 Maximum results are achieved when applied in a series of six skin peels.
Purchase six or more skin peels and receive 20% off.
$105
Lactic Peel with Green Tea – 60 minutes
This revitalizing exfoliation procedure is excellent for sensitive and mature skin. This peel will provide the desired smoothing effect without dryness. It can be performed weekly, bi-montlhy or as part of a maintenance regimen.
$100
Revitalizing Anti-Aging Facial – 60 min
The Revitalizing Anti-Aging Facial is the ideal solution for mature, dry skin. This facial is designed to simultaneously hydrate and exfoliate at the same time. This gentle resurfacing peel improves skin tone and texture, while replacing much-needed moisture.
$135
Ultrasonic Peel – 75 minutes
The Ultrasonic Peel provides a thorough and even exfoliation, with little or no irritation. Instead of using crystals, salt or chemicals, it utilizes ultrasound waves. Ultrasonic skin peels gently remove dead cell build up while treating blemished skin, sun damage, fine lines, wrinkles, hyper pigmentation and/or uneven skin tones. Vitamins are infused deep below the skin's surface for a brighter, more youthful complexion.
$157
Microdermabrasion – 60 minutes
This fast and virtually pain free option for modern skin care. It minimizes the most difficult skin conditions as it rejuvenates your skin to show immediate results.
Microdermabrasion can help treat:
Aging and sun-damaged skin
Altered pigmentation
Uneven skin color
Fine lines
Some types of acne scarring
Enlarged, clogged pores