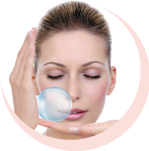 The Sothys Treatments and products are based on innovation, advanced research and proven results with over 60 years of experience. Sothys Paris offers you a diversified program of professional skin care using marine and botanical ingredients.
With the purchase of any Sothys treatment, add the Active Contour Eye Treatment for only $35.00.
$45
Active Contour Eye Treatment – 30 minutes
This is an Ophthalmology tested, all-natural treatment to soothe and refresh the eyes. This calming, anti-aging and revitalizing treatment uses a special blend of ginseng, cornflower and chamomile to enhance relaxation.
$95
Sothys European Facial – 75 minutes
This facial is recommended for sensitive skin, young skin or skin with redness/rosacea. It is a prescriptive facial to help maintain a healthy complexion. A mélange of nature's best: grapefruit, aloe vera or honey extract cleanses the skin. This facial's gentle exfoliation brings instant radiance to the skin. Then, a customized ampoule, a relaxing facial massage and mask treatment rejuvenate and illuminate the complexion.
$107
Vitamin C Aromatherapy Treatment – 50 minutes
Revitalize your complexion with a Vitamin C, anti-stress treatment redolent of aromatic mandarin and lemon essences. Your skin receives the benefits of essential vitamins in conjunction with relaxing massage.
To maintain the skin's radiance, you will receive a special gift: a vitamin complex to apply at home for the next 10 days.
$137
Reconstructing Institute Treatment (Lift Defense) – 75 minutes
This unique and deeply relaxing 5 phase facial treatment not only corrects the structural causes of aging but also relaxes the expression lines caused by repetitive contractions of the facial muscles. Wrinkles are filled, lines diminished, firmness and density of the skin is increased. The facial contours are remodeled – revealing new skin and giving it a "botox-like" effect.
$137
Hydroptimale Hydrating Treatment – 75 minutes
A delightful and relaxing treatment that actually teaches your skin to auto-regulate its water balance and maintain its moisture reservoir. It offers a 3-dimensional intelligent program that will keep your skin soft and moist for hours. A thirst quenching mask and silken textured serum indulge and caress your skin.
$137
Lightening Treatment – 75 minutes
Reveal and capture the brilliance of your skin, with a multi-phase facial treatment combining pure Vitamin C and an exclusive complex of white tea ,chamomile and brown algae. This treatment is an antidote to pigmentation concerns or lackluster skin, complimented by absolute moments of well-being. Unveil a flawless and luminous complexion.